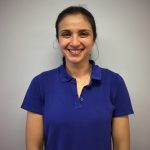 Lauren graduated from Curtin University in 2004 with a Bachelor of Science (Physiotherapy) degree and has since gained extensive experience as a physiotherapist working in the areas of general surgery, orthopaedics, cardio-thoracics and high dependency.  She is passionate about helping her clients achieve their functional and fitness goals and after taking time off to start a family, Lauren completed formal training in this area to become a Certified Pilates practitioner and hasn't looked back.
Since then, Lauren's main focus has been in the use of Clinical Pilates as an intervention for acute and chronic injury management, surgical and post-op rehabilitation and injury prevention.
She also has an interest in the role of exercise in cancer rehabilitation and has completed formal training to assist clients diagnosed with cancer. Through this training Lauren is able to tailor exercise, including Clinical Pilates, to clients through the various stages of their cancer treatment and rehabilitation.
Lauren comes to us with years of Pilates experience and has been instrumental in developing and running Clinical Pilates programs in private practice settings, including Pilates classes for children and studio Pilates for fitness and core strength.  Lauren is keen to bring this experience to Kardinya Physiotherapy and develop similar classes here in the future.